Plastic-geared DC Motor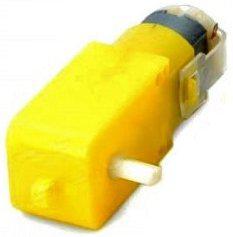 Specifications / More info:
Rectangular shaft, suits our yellow 65mm wheels.
The speed of brushed DC motors is approximately proportional to the voltage you put on them. Double the voltage can give you double the speed, but beware of issues such as torque limitations, overheating and faster wear.
Operating Voltage: 3V-12VDC
Maximum Torque: 800g/cm max. @ 3V
Gear Ratio: 1:48
Load Current: 70mA (250mA max. @ 3V)
Weight: 29g
Length: 65mm
Width: 37mm
Height: 22mm
Price:
$3.50 AUD
Add to cart:
---